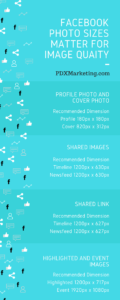 Image quality is a simple way to improve the look and outcome of any social media campaign. Using the proper size image will allow you to easily maintain the resolution of a photo. When Facebook resizes items it may become distorted and pixelated. This is true for sizing up or down an image.
Using a service such as Photoshop is what a lot of professional firms use to change the size of an image and maintain the quality of the photo. However some people need more user-friendly programs, don't want to pay Adobe, or are on the run and would like to use simpler programs. We recommend landscape as a free alternative. If you google "social media resizing tool" you will have multiple pages of options. At that point, it is user preference.
At PDX Marketing we provide helpful tips and tools, such as this info-graphic, to ensure your marketing efforts are at their pinnacle of success, even if you are not a customer.
Please follow and like us: